Arrow Trending Down – JoeBucsFan.com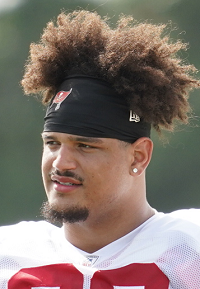 Arrow Trending Down
December 18th, 2022
There is a difference of opinion at JoeBucsFan.com world headquarters, and it's not over what to buy, a case of Bromosa or Palm Bender while at Big Storm Brewing.
One Joe has had it with Bucs coach Todd Bowles and wants him fired if the Bucs finish 8-9. The other Joe wants failing offensive coordinator Byron Leftwich out on the first available U-Haul but understands it's getting more and more difficult to justify bringing Bowles back for another season.
The Joe sort of sympathizing with Bowles understands he never had a chance to hire his own assistants. If you are not going to give a guy a chance to work with his hand-picked guys, then why even hire him?
But the following are a few questions Team Glazer and/or Bucs AC/DC-loving general manager Jason Licht need answered from Bowles before any decision is made:
1. Bowles is a defensive guy. Why is it that Devin White continues to regress from the Super Bowl season? At best, White is inconsistent since he played as a man-possessed in the 2020 postseason.
2) Why is Joe Tryon-Shoyinka regressing? Sure, he had an OK game tonight with a half-sack and two quarterback hits. That's the least to expect from a starting first-round draft pick.
3) Where has the team hidden Logan Hall? The top pick this year has been AWOL for the most part since he recorded two tackles against the Rams in late October. Your top pick in the draft, a defensive lineman, is in the witness protection program while the rest of the team is in a stretch run for a playoff push. That's not what Joe would call "development."
To Joe, those sins may be worse than an offensive offense. Three key, high draft picks on Bowles' side of the ball are not progressing but regressing, including the No. 5 overall pick in the 2019 draft. That should not be.
Unless Bowles can explain in detail why those three are going backward while playing for a defensive coach like Bowles, the regression of young defenders is enough for Bowles to worry about his future with the Bucs.
There's a whole lot of Team Glazer loot invested in those three. Most business owners don't like to see expensive investments vanish before their eyes.