Avatar Concept Art Reveals Early Design for the Na'vi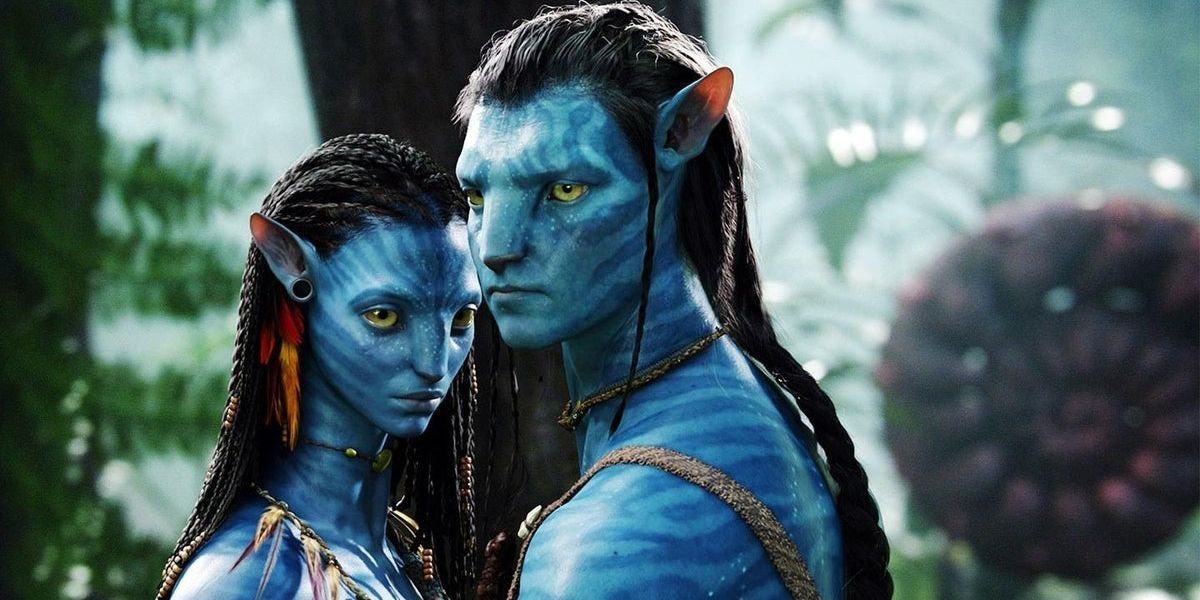 The design is also featured in Lisa Fitzpatrick's book, 'The Art of Avatar: James Cameron's Epic Adventure'.
With Avatar: The Way of the Water recently surpassing $2 billion at the global box office, the epic science fiction sequel continues to live up to the hype created by its predecessor over 13 years ago. As the momentum for the new film does not appear to be slowing down in the new year, an early piece of concept art that has now risen to the surface reveals an alternate look for the Na'vi in James Cameron's original 2009 hit Avatar.
Concept artist Joseph C. Pepe recently shared his first photorealistic illustration of a Na'vi on Instagram. The image, which was also featured in Lisa Fitzpatrick's companion book The Art of Avatar: James Cameron's Epic Adventure, depicts an elder male Na'vi. Along with a few close ups drawing audiences' attention to the bioluminescent design on the character's forehead, the artist included a comment describing how this first image of a Na'vi came to be.
"While working for Stan Winston Studio in late 2004, myself, Christopher Swift and Supervisor John Rosengrant visited James Cameron at Lightstorm Entertainment in Santa Monica, CA to read the Avatar scriptment and receive a download of information and artwork," Pepe said on Instagram. "This was our introduction to begin a two week 'trial by fire' process to bring our take to the characters, the Na'vi, for Project 880, the working name of Avatar. We were given 14 days to show Cameron 'something new, further develop the characters and bring them some new life.'"
RELATED: Jack Champion on Spider Being the Only Non-Digital Star in 'Avatar: The Way of Water'
Pepe explained that when Cameron told him that the final project would be photorealistic, he felt "extreme pressure" to illustrate something that would create an impression on the Oscar Award-winning writer and director of 1997's Titanic. Then, he went on to describe Cameron's initial reaction to the very first image he created of the Na'vi in a photorealistic style.
"At the time Cameron did not express any emotion during the review, only that he recognized the Sea Slug bioluminescence that I used on the forehead," Pepe continued. "Cameron said 'That is a Pelagic Nudibranch, Phylliroe bucephala.' My mouth agape in total astonishment that not only did he recognize what type of animals' bioluminescence I had used, he also knew its scientific name. Fortunately, my dedicated research paid off in a way that I would only understand after working with Cameron for a number of years. He loves research about Earth, Science, Flora, Fauna, Anthropology and Ethnology. Not only is he a genius in filmmaking but also Science and Engineering."
Since Avatar: The Way of the Water drew droves of audiences into theaters, Cameron has confirmed that the Avatar franchise is set to continue with a series of sequels. In fact, the third film was filmed concurrently with The Way of the Water and is currently in post-production, with a release date in 2024. Avatar 4 has been set for 2026 while Avatar 5 for 2028.
Check out the Instagram post below.