Every Upcoming Horror TV Show Releasing Fall 2021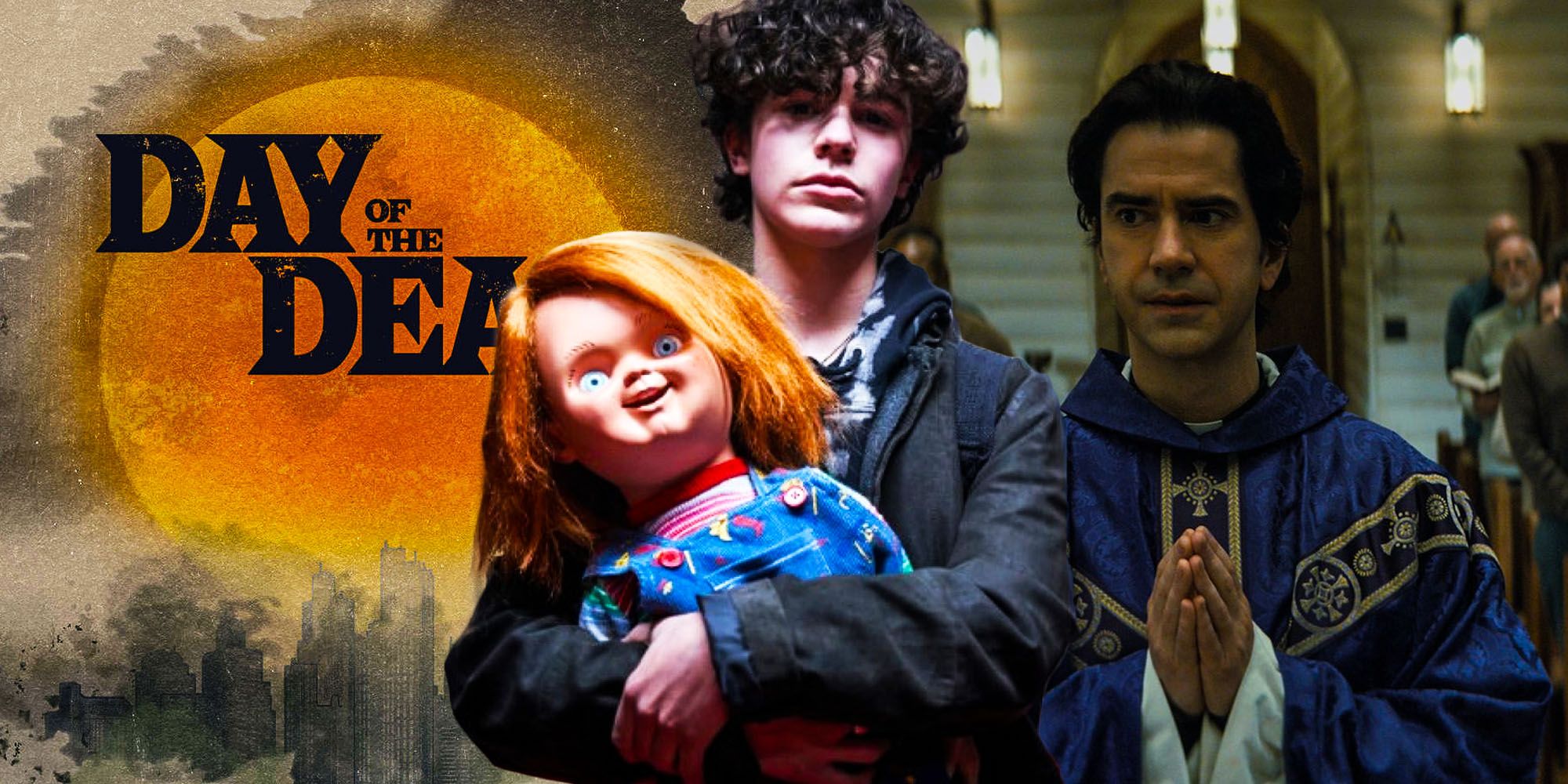 Every upcoming horror TV show set to release in fall 2021, including a new Chucky series, a Day of the Dead show, and a new season of Dexter.
Just in time for the Halloween season, there will be lots of new horror TV shows to look forward to debuting in fall 2021. It wasn't too long ago — specifically the 2000s — that horror didn't have a strong TV presence. While there were always a few successful horror-based hits, like The X-Files and Buffy the Vampire Slayer, floating around the TV landscape, the genre was still very niche. That changed in a big way in the 2010s, with AMC's gargantuan mega-hit The Walking Dead leading the charge.
Then came the runaway horror anthology show train that started with FX's American Horror Story, Netflix's pop culture juggernaut Stranger Things, the widely adored revival of Twin Peaks, and acclaimed cult shows like Hannibal and Ash vs. Evil Dead. Still, those shows barely scratch the surface when it comes to the amount of quality horror TV show content released in the 2010s. Thankfully for fans, the horror TV boom seems here to stay in the 2020s as well, at least so far.
Related: Is Midnight Mass Connected To Haunting of Hill House?
For everyone looking forward to fall, and with it the general rise in interest around all things spooky, there are multiple new horror TV shows set to make their debut as the leaves fall and the nights get colder. It'll soon be time to grab a blanket, curl up in front of the TV, and get scared.
Midnight Mass (September 24, 2021)
In the last decade, writer/director Mike Flanagan has become one of the fastest rising names in horror, thanks to acclaimed movies like Oculus and Doctor Sleep, and his smash hit Netflix shows The Haunting of Hill House and The Haunting of Bly Manor. Now, Flanagan is bringing Midnight Mass to Netflix, a seven-episode limited series that, as usual, will see him reuniting with favorite past collaborators like Henry Thomas, Annabeth Gish, and of course, his wife and seeming muse Kate Siegel. Midnight Mass focuses on a small island community that quickly falls under the influence of a mysterious yet powerful preacher (Hamish Linklater), all except for a disgraced returning resident who doesn't buy into the religious leader's shtick.
Chucky (October 12, 2021)
After a long-running franchise of seven films — eight if one counts the disputed 2019 remake — Child's Play is headed to the small screen on Syfy with the simply titled show Chucky. The story picks up following the events of 2017's Cult of Chucky, with series creator Don Mancini back as writer and director, and horror legend Brad Dourif once again voicing the titular killer doll. Also returning are Jennifer Tilly as Chucky's bride Tiffany, Fiona Dourif as Nica Pierce, Alex Vincent as Andy Barclay, and Christine Elise McCarthy as Kyle, Andy's foster sister from Child's Play 2. Season 1 of Chucky will consist of eight episodes, all of which are written by Mancini, and sees the doll slashing his way through a small town after being bought at a yard sale by a bullied and grieving teenager.
Day of the Dead (October 15, 2021)
While this Syfy series bears the name of zombie master George A. Romero's classic 1985 movie, it appears to have no other connection to Romero's oeuvre, outside of involving a zombie uprising. That doesn't necessarily mean the show will be bad, but anyone expecting it to tie into Romero's franchise should know what they're really getting. The Day of the Dead TV show, such as it is, focuses on a group of six strangers as they're forced to band together if they want to survive the initial days after the dead rise. Season 1 will consist of 10 episodes. Considering how badly many of the other non-Romero Day of the Dead projects have turned out though, there's reason for fans to proceed with caution.
Related: George A. Romero's Zombie Movies Ranked, Worst to Best
I Know What You Did Last Summer (October 15, 2021)
I Know What You Did Last Summer, headed to Amazon Prime, is ostensibly based on the 1973 Lois Duncan book of the same name, but based on what's been seen so far, also seems to be taking a lot of inspiration from the 1997 hit movie adaptation starring Jennifer Love Hewitt. The movie changed a lot about the book, to the point where Duncan hated it, so it'll be interesting to see what this Amazon show ends up closer to. Unsurprisingly, the story again sees a group of teenage friends accidentally kill a man with their car, cover it up, then begin getting targeted one year later by an unknown assailant. Madison Iseman of the Jumanji franchise and Annabelle Comes Home plays the lead role.
Dexter: New Blood (November 7, 2021)
While it's of course a revival of the long-running Showtime serial killer drama, Dexter: New Blood is being treated like its own new entity by the network, hence its differing title. New Blood offers Dexter fans a chance to not say goodbye on a sour note like last time, picking up a decade after Dexter took up a new life as a lumberjack, with him living under an assumed name in upstate New York. Dexter has been somehow suppressing his urge to kill, but local murders threaten to awaken his dark passenger. Dexter's son Harrison is also older and possibly a killer himself. Clancy Brown joins the mix as a new villain, while Jennifer Carpenter returns as the ghost of Debra, and John Lithgow's Arthur Miller, aka the Trinity Killer, appears in flashbacks.
Just Beyond (Fall 2021)
While the series covered above are mostly targeted at older audiences, Just Beyond is designed to be a taste of terror that the whole family can enjoy. On its way to Disney+, Just Beyond's first season will run eight episodes, and while it's currently undated, is expected to premiere sometime in fall 2021. The Haunting of Hill House's McKenna Grace, who's been popping up absolutely everywhere as of late, will star in one of the initial episodes, but Just Beyond is an anthology show, meaning each episode will tell a new story with new characters. Just Beyond is based on stories from R.L. Stine's graphic novel series of the same name from Boom! Studios, with author and screenwriter Seth Grahame-Smith serving as showrunner.
More: Every Horror Movie Coming In Fall 2021
Law & Order: Christopher Meloni Says Stabler's Letter to Benson Will Cause Riots
About The Author