Keanu Reeves gushes over girlfriend, comedian Paul O'Grady dies, and more of today's trending news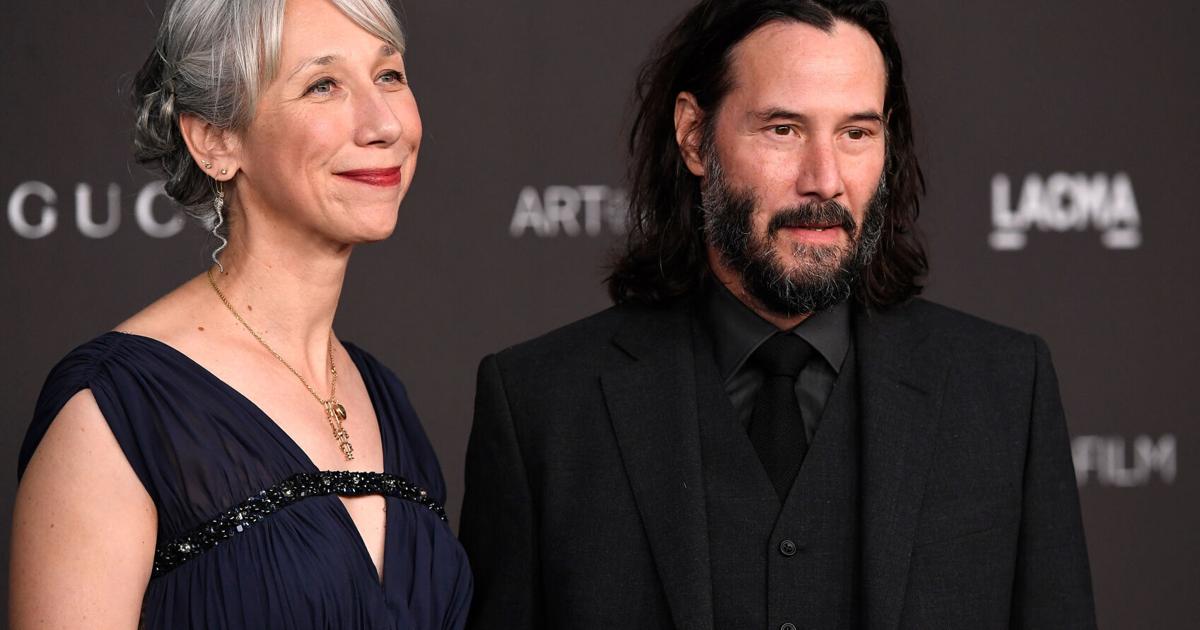 Here's a look at trending topics for today, March 29:
Keanu Reeves
Keanu Reeves has found "bliss" with his girlfriend Alexandra Grant.
The 'John Wick: Chapter 4' actor doesn't often speak about his personal life but admitted one of his last moments of true contentment was while he was in bed and "connected" with his "honey".
Asked his last moment of bliss, he told People magazine: "A couple of days ago with my honey.
"We were in bed. We were connected. We were smiling and laughing and giggling. Feeling great. It was just really nice to be together."
The 58-year-old actor also admitted he isn't always a regular on the dance floor, but with the right song, he'll be the first one up.
Paul O'Grady
Paul O'Grady, one of Britain's most popular TV personalities, has died aged 67.
The star, also known for his drag queen alter ego Lily Savage, died unexpectedly on Tuesday evening, according to his husband, Andre Portasio, the PA Media news agency reported.
In the statement shared with PA, Portasio said: "It is with great sadness that I inform you that Paul has passed away unexpectedly but peacefully yesterday evening.
"We ask, at this difficult time, that whilst you celebrate his life you also respect our privacy as we come to terms with this loss.
"He will be greatly missed by his loved ones, friends, family, animals and all those who enjoyed his humor, wit and compassion."
Read more about him here:
Paul O'Grady, one of Britain's most popular TV personalities, has died aged 67.
Pope Francis
The Vatican says Pope Francis will be hospitalized for several days for treatment of a pulmonary infection after experiencing difficulty breathing in recent days.
Vatican spokesman Matteo Bruni says Francis, 86, does not have COVID-19, but requires several days of therapy.
He said Wednesday that Francis had been suffering some breathing trouble in recent days and went to the Gemelli hospital for tests.
"The tests showed a respiratory infection (COVID-19 infection excluded) that will require some days of medical therapy," Bruni's statement said.
Pope Francis went to a Rome hospital on Wednesday and canceled his audiences for the next two days to undergo previously scheduled tests, the Vatican said.
***
Get more of today's trending topics here:
TikTok banned
Nashville shooting vigil
Israel's prime minister has brushed aside criticism of his judicial overhaul plan from President Joe Biden. Benjamin Netanyahu said on Wednesday that the matter was an internal Israeli issue and would not be influenced by outside pressure. It marks a rare bout of public disagreement between the two close allies, and reflects what has been a lukewarm relationship between the Biden administration and Netanyahu's new government. It also is the latest sign of cooling ties between Israel and the Democratic Party in the U.S. Following especially heavy protests, Netanyahu this week froze the overhaul plan and launched negotiations on a compromise with his political opponents.
When smoke began billowing out of a migrant detention center in the Mexican border city of Ciudad Juarez, Venezuelan migrant Viangly Infante Padrón was terrified because she knew her husband was still inside. The father of her three children had been picked up by immigration agents earlier in the day, part of a recent crackdown that netted 67 other migrants, many of whom were asking for handouts or washing car windows at stoplights in this city across from El Paso, Texas. What she saw in those first minutes has become the center of a question much of Mexico is asking itself: Why didn't authorities attempt to release the men before smoke filled the room and killed so many?
Here's some of what we know and don't know about the deadly shooting at The Covenant School in Nashville. Six people were killed at the small, private Christian school on Monday after a shooter opened fire inside the 200-student school. Police say the shooting took place over about 14 minutes. The shooter was also killed. Police say that shooter Audrey Hale was a former student but that it was unclear whether Hale had any current affiliation with the school or was related to anyone there at the time of the shooting.
President Joe Biden says global leaders are "turning the tide" in stemming a yearslong backslide of democratic institutions. At his second democracy summit on Wednesday, Biden looked to spotlight hopeful advancements over the past year despite Russia's war in neighboring Ukraine and U.S. tensions with China over its military and economic influence in the Indo-Pacific and beyond. Biden cited signs of progress across the globe, from Angola's effort to create an independent judiciary, Croatia's move to boost government transparency and the Dominican Republic's anti-corruption steps. Biden also pointed to his stalled push for voting protections in Congress as evidence of his administration's commitment to support democracy.
In the federal budget standoff, the majority of U.S. adults are asking lawmakers to pull off the impossible: Cut the overall size of government, but also devote more money to the most popular and expensive programs. Six in 10 U.S. adults say the government spends too much money, but majorities also favor more funding for things like infrastructure, health care and Social Security. The findings from a new poll by The Associated Press-NORC Center for Public Affairs Research suggest efforts to shrink the government may be politically risky ahead of the 2024 elections.
A federal judge has ruled that former Vice President Mike Pence will have to testify before a grand jury in the federal probe into efforts by former President Donald Trump and his allies to overturn the 2020 election. That's according to two people familiar with the ruling, who spoke on condition of anonymity because it remains under seal. The people said, however, that Pence would not have to answer questions about his actions on Jan. 6, 2021, when a mob of Trump supporters stormed the building as Pence was presiding over a joint session of Congress to certify the vote. Pence and his attorneys had cited constitutional grounds in challenging the subpoena.
The Senate has voted to repeal the decades-old congressional measure that greenlighted the 2003 invasion of Iraq. If approved by the House, the measure would end more than 20 years of authorization for U.S. presidents to use force in that country and return those war powers to Congress. The Iraq War ended years ago, and repeal is not expected to affect any current troop deployments. The bipartisan legislation would also repeal the 1991 measure that sanctioned the U.S.-led Gulf War. Lawmakers in both parties are increasingly seeking to claw back congressional powers over U.S. military strikes and deployments.
A federal judge has upheld approval of the Boy Scouts' $2.4 billion bankruptcy plan. The plan would let the Texas-based organization keep operating while it compensates tens of thousands of men who say they were sexually abused as children while involved in Scouting. The ruling released Tuesday in U.S. District Court in Delaware rejected arguments that the bankruptcy plan wasn't proposed in good faith. Opponents have said it improperly strips insurers and survivors of their rights. The plaintiffs say the staggering number of claims and other factors suggest the bankruptcy process was manipulated.
Ukrainian President Volodymyr Zelenskyy is warning that his nation must win a drawn-out battle in a key eastern city. Otherwise, he says, Russia could begin building international support for a deal that could require Ukraine to make unacceptable compromises. Zelenskyy says Russia would use a victory in Bakhmut to its political advantage. Zelenskyy spoke in an interview with The Associated Press while traveling aboard a train across Ukraine. He says that if Russia takes Bakhmut, Putin would "sell this victory to the West" as well as China and Iran. Zelenskyy also invited the leader of China to visit Ukraine. China has long been aligned with Russia and has taken a position of neutrality in the war.
Vice President Kamala Harris has visited a site in Ghana where millions of enslaved Africans were held captive before they were loaded onto ships bound for the Americas. During her visit to Cape Coast Castle, Harris insisted on exploring past wounds. She skipped her prepared remarks to talk bluntly about the anguish "that reeks from this place," and the horrors endured by the people who passed through its walls; mass kidnapping, sickness, rape and death. Those who lived were sold into bondage in the Americas. The nation's first Black and South Asian vice president is the most high-profile member of President Joe Biden's administration to visit Africa as the U.S. escalates its outreach to the continent.
King Charles III has arrived in Germany for his first foreign trip as Britain's monarch. The new king is hoping to cement his country's improving the U.K.'s post-Brexit relations with Europe and to show he can win hearts and minds abroad like his mother did for seven decades. Charles and Camilla, the queen consort, landed in Berlin on Wednesday. German President Frank-Walter Steinmeier and his wife later welcomed them at the historic Brandenburg Gate before an afternoon reception and evening banquet. Charles had planned to visit France before Germany, but the French leg of his trip was canceled due to protests. His time in Germany gives him an opportunity to highlight the causes he holds dear, like environmental protection.
Gwyneth Paltrow's attorneys leaned heavily on experts to mount their defense about her 2016 ski collision with a 76-year-old retired optometrist who sued her years later. Her defense team chose to devote their final full day to call witnesses, they questioned four medical experts, who cast doubt on the extent of the injuries claimed by the man suing Paltrow. That man, Terry Sanderson, says that the movie star's recklessness on the slope left him with four broken ribs and years of post-concussion symptoms. Paltrow's defense team is expected to rest their case Thursday and send the decision to the jury.